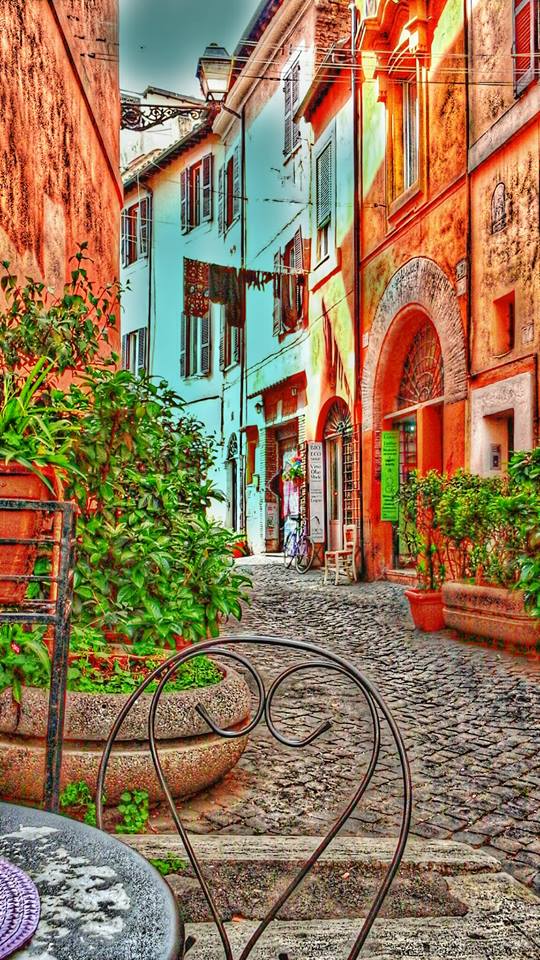 May
25
Enjoying Trastevere the most charming neighborhood in Rome
Trastevere charming neighborhood of Rome.
This neighborhood is a picturesque medieval area located on the west bank of the Tiber. The area escaped the grand developments which changed the face of central Rome, and is a charming place to wander, eat or relax. Trastevere (TrasTEVeh-ray) is named for its position 'over the Tiber'. Separated from the heart of central Rome by the river, the area retained its narrow lanes and working-class population when the rest of Rome began its nineteenth-century expansion.
Trastevere Rome Italy
The most charming neighborhood in all of Rome is Trastevere. Though some say the neighborhood is slowly losing its Italian touch due to the increasing popularity of American and international student life, Romans still consider it one of the most beautiful areas in the Eternal City. As you lose yourself down the winding cobblestone streets and dive into an authentic Roman trattoria, you'll soon discover why everyone falls in love with this wonderfull area 'just across the Tiber' as its name suggests.
St.Maria in Trastevere heart of Rome
Piazza di Santa Maria in Trastevere: This square is the heartbeat of life in the villagelike section of Trastevere with its maze of narrow, cobbled alleyways. Dominating the square is the church of Santa Maria, famous for its 12th-century mosaics by Pietro Cavallini. At night the fountain in the center, created by Carlo Fontana in 1692, is a popular meeting place on the floodlit square.
The only downside to being in Trastevere is that everyone wants to be there. That said, as Trastevere can be a bit noisy at night because of its reputation and attractiveness towards nightlife, finding a quiet place to stay can be challenging. Usually the trick is to stay away from the Piazza Santa Maria in Trastevere and Piazza Trilussa areas as these places are covered with bars and pubs. Where ever there are pubs, there is noise. The best places to stay are either on the other side of Viale Trastevere or moving up on the Tram 8 line further up in the newer parts of Trastevere. Granted, some of these spots are not as charming, but if noise is an issue for you, then you won't have trouble sleeping here. Two quiet, clean and affordable hotels in the area are BDB Luxury Rooms Trastevere and Hotel Antico Borgo di Trastevere.
This popular area is literally sprawling with places to grab an early evening drink or after dinner cocktail. Whether you feel like enjoying a glass of wine while marveling at the people passing by at Piazza Santa Maria in Trastevere or you're looking for a little more lively action, Trastevere has something for all walks of life.
Trastevere is a neighborhood like no other. Its ivy-coated, cobblestone streets come alive at night earning it comparisons to Greenwich Village and Paris's Left Bank. It's where Romans choose to eat with their families on a Sunday and where young Romans go for weekend nightlife. On this guided 4-hour walking tour we explore this ancient neighborhood, indulging in over 10 food and wine tastings at some of Rome's most historic and locally loved places. You will meet the families that have been serving up the foodie treasures we have savored for generations.
Few activities in Rome deliver as many hidden surprises and enchanting moments as this, so be sure to join us for an unforgettable night in one of our favorite neighborhoods in Rome.
One of the most popular places in Trastevere is Antica Trattoria Rugantino e Sora Lella. Many people come to this former autobody shop turned lounge bar around 7pm for an aperitivo. It's uber popular with not only Italians but also Americans because of its close proximity to the University nearby. his place stays pretty lively well on through the night. So, if you want to grab a mojito after your dinner, Freni e Frizioni is the place to do it. Other popular places include Friends at Piazza Trilussa and Pepato (Via Del Politeama 8) that's also nearby.
Please feel free to contact us for an estimate and we can arrange a tailor-made package to suit your needs.
Please furnish the following information: desired period; number of persons, specifing the age of each; pet animal requirement; places to visit; food requirements (vegetarian, vegan, celiac, etc.)
For any information whatsoever we are at your complete disposal to ensure a wonderful and unforgettable stay, immersed in cultural attractions, art, culinary delights, scenery and traditions.
Contact us through our webpage Greatitaly Ltd