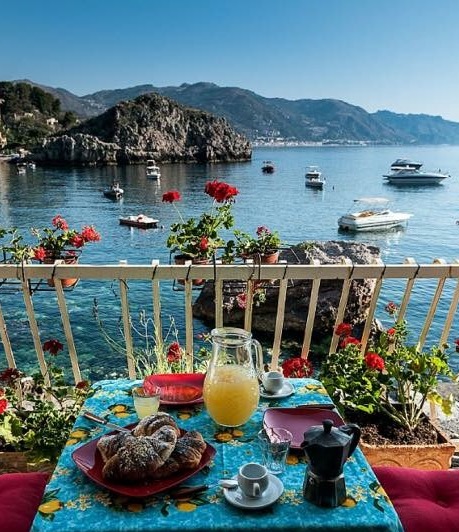 Feb
18
Holidays in Italy art food sea mountains
Holidays in Italy
Italy is home to the greatest number of UNESCO World Heritage Sites in the world. High art and monuments are to be found everywhere around the country. Its great cities of art, like Rome, Venice and Florence are world famous and have been attracting visitors for centuries. Besides its art treasures Italy also features beautiful coasts, alpine lakes and mountains. No wonder it is often nicknamed the Bel Paese (beautiful country).
Holidays in Italy
The country's capital, Rome, is the perfect destination for lovers of culture. Sights to include on a must-visit list include the Colloseum, the Trevi Fountain, the Vatican Museums and the Sistine Chapel. And these attractions only scratch the surface of what's on offer. There's also a dizzying array of places to eat including traditional family-run trattorias and upmarket restaurants as well as cafés where you can prop up the bar with an espresso. It conjures up images of freshly baked pizzas, morning espressos and stylish locals zipping around on Vespa.
Italy's two largest islands, Sardinia and Sicily, are excellent family holiday locations with beautiful beaches and jaw-dropping landscape. No visit to Sicily would be complete without a trip to the island's active volcano Mount Etna, and the town of Taormina, with a Greek amphitheatre and stunning views down to the bay below, is a popular place to stay.
On Sardinia, the Costa Smeralda is home to some of the most luxurious hotels in Italy and is the place to head for an exclusive break mingling with the stars. However, if you have a more modest budget, the port towns of Cagliari and Alghero are great options and children will enjoy the boat trips on offer from Alghero's harbour. Sicily has ancient sites – Segesta, Selinunte, Syracuse and the Villa Romana del Casale – that almost rival Pompeii. Sicily has always had an immense cultural heritage, but only recently have decent hotels and improved infrastructure developed. It can still be slow to get around, but with landscapes incorporating Mount Etna and the Madonie and Nebrodi mountains, the Egadi and Aeolian islands, and towns such as Taormina, Enna, Erice, Noto and Ragusa, this is a place you could spend several holidays and still only scratch the surface.
And, of course, you could visit the fabulous Amalfi Coast , staying in Sorrento and taking trips to Ischia or the home of pizza, Naples. Alternatively, enjoy posing in the fashionable city of Milan or visiting the fascinating historic city of Pompeii.Campania, too, is little known, save for Pompeii, Capri and the Amalfi Coast. All are too busy for their own good in summer – avoid them – and it can come as a shock to find Pompeii hemmed in by a modern sprawl. Herculaneum and the temples at Paestum should also be seen, and Ravello is the best of the Amalfi Coast towns. Italy's geography, but more its history – too long and fractured for uniformity – account for much of this variety. Nowhere is this more true than in the Latin south – the regions of Campania, Basilicata and Calabria – where Greeks, Arabs, Phoenicians, Normans and the Spanish all held sway at one time or another.
Holidays in Italy
Other Italian highlights include escaping the hustle and bustle of modern life in one of Tuscany's smaller towns such as Siena or San Gimignano, seeing the Leaning Tower of Pisa, admiring Michelangelo's David in the Galleria dell'Accademia in Florence, food shopping in Bologna and skiing in the Italian Alps
Italian holidays  team ancient monuments and world-famous sights with some of the best shopping and dining in the world. Alone, they make fantastic short breaks, but you could also tick off two or three in one go – high-speed rail links mean it's easy to travel between these buzzing metropolises.
Up in the north, you've got Milan, Verona and Venice. Milan is renowned for its fashion credentials and coffee shops, but it's also the home of aperitivo, with most bars setting out buffets of antipasti and snacks in the early evening. Highlights of Verona include Juliet's Balcony, Piazza Bra and the Arena di Verona – a Roman amphitheatre that hosts al fresco opera in the summer. Venice, meanwhile, is set on a network of postcard-pretty canals lined with grand palazzos and townhouses.
Holidays in Italy
Moving further south, you'll find Bologna and Florence. Bologna is known as Italy's capital of cuisine, hence its nickname, La Grassa (The Fat) – order tagliatelle al ragu for a taster of the real spaghetti Bolognese. Florence is a treasure trove of Renaissance art and iconic architecture. Take a look at the paintings and sculptures in the Uffizi and Accademia galleries, then climb to the top of the cathedral's duomo for views across the city.
Please feel free to contact us for an estimate and we can arrange a tailor-made package to suit your needs.
Please furnish the following information: desired period; number of persons, specifing the age of each; pet animal requirement; places to visit; food requirements (vegetarian, vegan, celiac, etc.)
For any information whatsoever we are at your complete disposal to ensure a wonderful and unforgettable stay, immersed in cultural attractions, art, culinary delights, scenery and traditions.
Contact us through our webpage Greatitaly Ltd