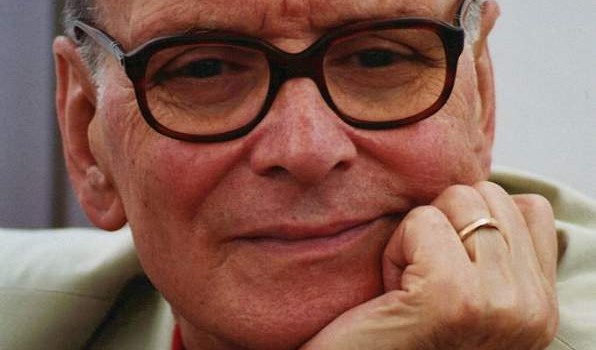 Mar
01
Ennio Morricone Italy's composer won an Oscar gold
Ennio Morricone, Italy's legendary composer, born 10 November 1928 is also an Italian, orchestrator,  musician, producer and former trumpet player, born in Rome. After having played trumpet in jazz bands in the 1950s, he became a studio arranger for RCA and started ghost writing for film and theatre. From 1960 to 1975, Morricone gained international fame by composing the music to westerns. As of 2013, Ennio Morricone has sold over 70 million records worldwide. In 1971, he received a "Targa d'Oro" for the worldwide sales of 22 million. In 2007, he received the Academy Honorary Award "for his magnificent and multifaceted contributions to the art of film music." He has been nominated for a further six Oscars.
His talent and creativity were such that many other directors were soon keen to collaborate with him, and in the next few years Morricone scored a lot of films by politically committed directors: collaborating with Marco Bellocchio, Gillo Pontecorvo, Marlon Brando, Giuseppe Patroni Griffi, Pier Paolo Pasolini, Bernardo Bertolucci.
After clocking over 500 movie credits, legendary Italian composer Ennio Morricone finally landed Oscar gold at this year's Academy Awards.
Italy on Monday cheered Ennio Morricone's Oscar victory for composing the original score for Quentin Tarantino's "The Hateful Eight," which marks the first competitive Oscar won by the 87-year old maestro with more than 500 movie credits to this name.
"After an almost 60-year-long career, and five nominations which had left him empty-handed, Ennio Morricone finally brings an Oscar for best score home," trumpeted Italian Newspapers.
Ennio Morricone legendary Italian composer
Winning for Quentin Tarantino's The Hateful Eight, he stated; "There isn't a great soundtrack without a great movie that inspires it. This is why I thank Quentin Tarantino for choosing me, as well as the producer Harvey Weinstein and the whole crew."
This follows both a Golden Globe and a BAFTA for the same score, which partially utilises unused work from one of his most famous scores, for John Carpenter's 1982 sci-fi The Thing.
Morricone had previously been nominated five times for the Academy Award; for his scores to Days of Heaven (1978), The Mission  (1986), The Untouchables (1987), Bugsy (1991), and Malèna (2000). However, the 87-year-old composer had received an honorary Oscar for his lifetime contribution in 2007.