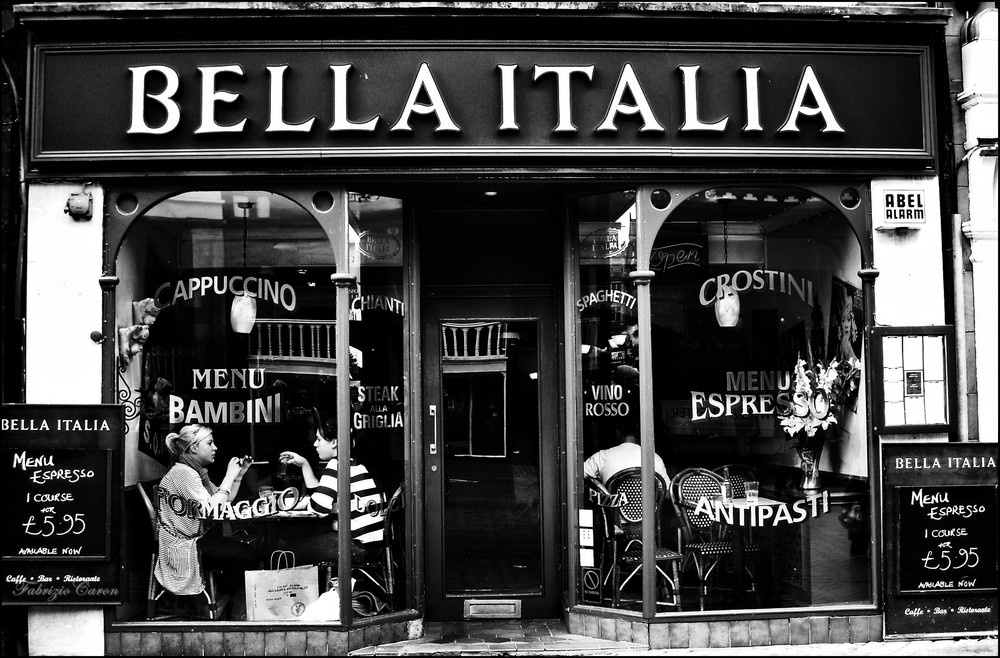 Feb
15
Restaurants in London tasting the best Italian dishes
Eating in Italian restaurants
Italy is made up of twenty regions with distinct characteristics. Every town, every village, makes the same dish in vastly different ways, and every town and village has its proudest specialty. These cooking traditions define people's identities just as much as their dialects and their traditional costumes. Local cooking preferences and customs are shaped by geographic, historical, and climactic differences: some regions are landlocked and mountainous, others hug the sea and are hilly. Some regions live under the dazzling Mediterranean sun most of the year, others have cold winters, snow, fog, and harsh winds.
La bella Italia (Italy) is not a big country, but it is one with a long and venerable history. From the fall of the Roman Empire in 476 to 1861, when it was finally unified under one kingdom, Italy was made up of independent city states, republics, and regions that spent much of their time fighting off encroaching neighbors and outside intruders. This, along with the fact that the large-scale exchange of culinary traditions among Italians is a recent phenomenon (linked to modern roads, technology, and an improved post-war economy), explains how Italy managed to maintain its varied cuisines into the twenty-first century.
Italian meals – Restaurants in London
Italians generally eat three meals a day. Adults eat a light breakfast (la prima colazione), often stopping at a coffee shop on their way to work for a caffellatte (coffee with milk) or  cappuccino  with bread, butter, and jam, or cake. Lunch and dinner are similar meals. They consist of an antipasto (an appetizer based on cold meats), a pasta or rice dish (depending on the region) such as risotto, a main meat or fish course, a salad, and cheese and fruit. Lunch (il pranzo)  is the main meal of the day for many Italians and is eaten between 12:30 P.M. and 2 P.M.  .
Whether eating at home or in a restaurant, Italians take food seriously. They prefer to dine in a leisurely fashion, savoring their meals over a bottle of wine and conversation. Wine and bread are always served during main meals. Even children are often allowed a taste of wine. In southern Italy, where people take a long break during the hottest part of the day, dinner (la cena) is served later than in the north, often after 9 P.M.
In addition to their main meals, Italians have two traditional snack times. Spuntini  (midmorning snacks) and the mid-afternoon  merende  . Both usually serve a type of bread dough with toppings. Some typical  merende  are  bruschetta  (usually a long loaf of bread, cut into slices and topped with seasonings),  focaccia  (an Italian flatbread), and  crostini  (fried slices of polenta).
Discover the best restaurants in London, from local neighbourhood hideaways, to Michelin-starred fine dining & your favourite high street restaurants. The big smoke offers endless choice for dining out.
Best Italian Restaurants in London
L'Anima, 1 Snowden Street | Broadgate West, London EC2A 2DQ, telephone 020 7422 7000, naming a restaurant after 'the soul' is quite a mission statement, but Antonio Favuzzi's southern Italian flagship leaves a lasting impression. Lofty dimensions, vast windows and glass walls produce a fresh, dramatic space for L'Anima's constituency of vivacious, enthused diners. Justifiably pricey highlights include an outstanding liquorice and chilli-marinated cod with tart red onion purée, or risotto with chicken liver and cherries. Such unusual flavour combinations show the kitchen's confidence and produce delectable mouthfuls, both sweet and piquant;  
Franco's, 61 Jermyn Street, London SW1Y 6LX, telephone: 020 7499 2211, some believe Franco's was the first Italian restaurant in London! The lunch and dinner menus have evolved over the years and now offer sumptuous modern Italian dishes with imaginative combinations of the flavours, textures and aromas of Italy, from north to south, as well as classics and simple lighter dishes;
Locanda Locatelli, 8 Seymour Street London W1H 7JZ telephone 020 7935 9088, the main dining room at Locanda Locatelli offers spacious seating with an ambience that manages to combine a sense of privacy with the atmosphere of family dining.
Here you can explore the ingredients and history and introduce you to some of the cooks, fishermen and growers that make Sicily what it is, with regional recipes ranging from insalata di rinforzo, a famous island salad made with cauliflower, to four kinds of caponata, pasta with anchovies and breadcrumbs, Sicilian couscous, and the celebrated dessert, cassata.
Well attended by knowledgeable and thoughtful staff, your party will be welcomed with care and attention.
Massimo, 10 Northumberland Avenue, London WC2N 5AE telephone 020 73213156, showcasing the best of Italian food infused with bold flavours, created with passion and flair, our menu is ideal for pre and post theatre dining or a late supper.
Art Deco in style, Massimo Restaurant is a striking space lined with statuesque Corinthian columns, beautifully lit by hovering globe light fittings, and decorated with sleek mahogany and glossy marble, it is one of the most romantic restaurants in London.
Enjoy Italian food in London
… The list of restaurants does not end here, we are updating the reviews, sorry for that, but stay tuned, shortly you will have the Great Italy complete list