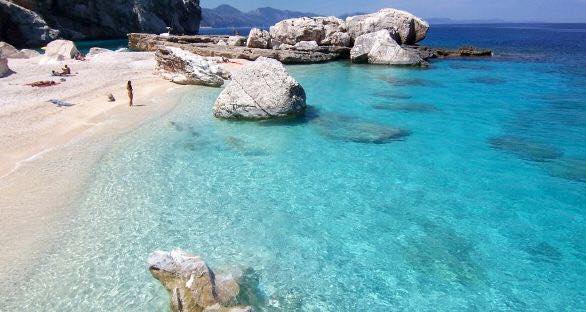 Jun
27
« Life in Sardinia is maybe the best a man can hope for: twenty-four thousand miles of forests, of countryside, of coasts surrounded by a miraculous sea should coincide with what I would recommend the good God to give us as paradise. »  (Fabrizio De Andrè Italian singer).
The island is deceptive – it looks small on paper, but unravel it and it is huge. It's like a continent in miniature, shaped by its own language and fierce traditions, its own cuisine and culture, its own history and the mystery that hangs over it like a shroud. Sardinians are proud of their island, and so they should be.
This is an island where coastal drives thrill, prehistory puzzles, and sheep (four million of them) rule the roads. The island is scatterred with 7000 nuraghi, Bronze Age towers and settlements, tombe dei giganti ('giant's grave' tombs) and domus de janas ('fairy house' tombs).
Sardinia captivates with its wild interior, dazzling beaches and endearing eccentricities.
Believe the hype: Sardinia has some of the dreamiest beaches you'll find without stepping off European shores. Yes, the sand really is that white, and the sea the bluest blue. You will be fascinated by the small coves that lie in wild corners of the crystalline seas, you will be astonished to see the wonders that nature, with patience over the centuries, has created in the spectacular caves that penetrate the heart of the island. Imagine dropping anchor in Costa Smeralda's scalloped bays, where celebrities and supermodels frolic in emerald waters; playing castaway on the Golfo di Orosei's coves, where sheer cliffs ensure seclusion; or sailing to La Maddalena's cluster of granite islands.
Be it walking barefoot across the dunes on the wave-lashed Costa Verde or lounging on the Costa del Sud's silky smooth bays – unroll your beach towel and you'll never want to leave, we swear.As DH Lawrence so succinctly put it: 'Sardinia is different.' Indeed, where else but here can you go from near-alpine forests to snow white beaches, or find wildlife oddities like the blue-eyed albino donkeys on the Isola dell'Asinara and the wild horses that shyly roam Giara di Gesturi.