Product Description
We have a huge variety of restaurant quality gourmet fresh pasta, ravioli and sauces available for convenient home delivery. Our selection includes traditional favorites like spaghettini, linguine and tortellini, but look further and you'll see unique and exquisite varieties like black and white striped lobster ravioli, fresh spinach gnocchi, and lemon pepper fettuccine. Do you have a favorite lasagna recipe? There are so many ways to make a fresh pasta dough and depending on what region of Italy you're from you might use eggs, you might only use semolina flour, some don't use olive oil and some use only egg yolks. If you're from the North of Italy you are more likely to have eggs in your basic pasta dough recipe and in the South it's semolina flour and water with a touch of salt.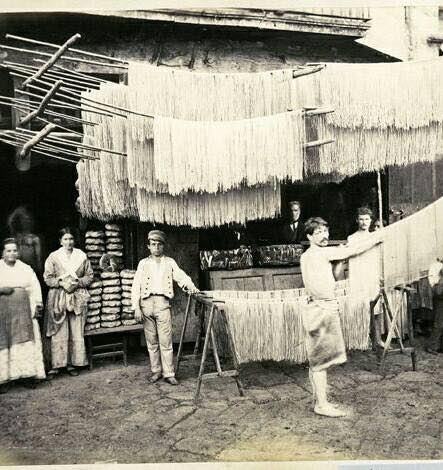 Our fresh lasagna sheets will make it better than ever. Like to make homemade ravioli? Our fresh ravioli dough makes it a snap. Enjoy the unique flavour of this artisanal bronze wire-drawn meal, dried at low temperature. Our is a fresh handmade pasta that ensures a high standard of quality and taste.
Fresh pasta hand made product
The tonnarelli, also known as maccheroni alla chitarra, are a variety of egg pasta typical of Latium, Italy.
Tonnarelli, durum wheat semolina, egg(20%), water. Fresh pasta is made in the the Italian tradition with just eggs, finely milled durum flour and semolina. Great Italy distributes a variety of ravioli stuffed with special blends of spices, seasonal vegetables and imported Italian and all-natural cheeses. Product packaged in a protective atmosphere. Using traditional recipes and methods learned in Italy, we sell those products, ravioli, gnocchi and sauces using fresh and local ingredients.
Handmade.
NO preservatives.
Place your order and it will be delivered to you at home in UK within 1-2 working days. A delicious and satisfying collection of products from Great Italy distribution. We will be happy to share this picky food tradition with you which has given us some amazing food.
Simple or sophisticated, quick and easy to cook, it is the perfect choice for everyday and spur-of-the-moment meals!
We also have fresh cheeses, pasta, bread for sale. You can also pick up cured salamis and extra virgin olive oil.